Bristol NHS trusts to consider merger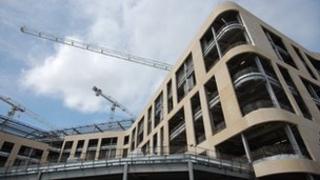 Two Bristol NHS trusts are considering a merger which they claim would improve health care in the city.
North Bristol NHS Trust and University Hospitals Foundation Trust run Southmead Hospital and the Bristol Royal Infirmary.
A joint statement from the two organisations said the merger would also involve "identifying areas of duplication in the combined workforce".
A business plan will now be drawn up with a potential merger by late 2013.
Marie-Noelle Orzel, the chief executive of North Bristol NHS Trust and her counterpart Robert Woolley at the University Hospitals Trust said the plan was approved at a meeting on Monday.
If the merger goes ahead it would see services such as neck and head injury specialists and paediatrics centralised at current University Hospitals facilities.
Urology and breast care services would move to current North Bristol facilities.
The redevelopment of the Bristol Royal Infirmary would continue as would the extension to the Bristol Royal Hospital for Children.
A new £430m Southmead Hospital in the north of the city is due to open in Spring 2014.