Reduction in Bristol street sex workers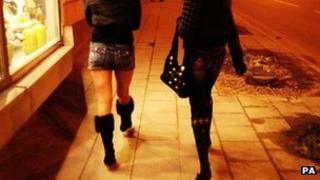 The number of sex workers trading on the streets of Bristol has decreased, police and sex workers' charity One25 have said.
However, the off-street sex trade in brothels and online is still a problem, the organisations added.
One25 case worker Tasha Brentwood said the charity currently supported 285 women.
Some 186 were street sex-workers, 47 were at high risk of street sex-work and 72 were building new lives.
Insp Chris Reagan, of Avon and Somerset Police's vice unit, said tackling prostitution was "very much a priority".
"Women involved in prostitution are extremely vulnerable, we take the problem extremely seriously," he said.
"We regularly run pro-active operations tackle kerb crawling in the city and bring offenders to justice.
"But equally working with partners such as One25 to try and provide appropriate support to extricate people from prostitution."
'Soul destroying'
A former street worker, who has asked to be called Kay, said drug addiction made it hard for street sex workers to get out of the industry.
She was involved in the industry for 11 years and has been free from drugs for two.
"Very very quickly, I became involved in prostitution, at the age of 16, I was working the streets in Doncaster," she said.
"When you get into a car you never know whether you'll get out alive or not.
"Heroin is so soul destroying and what it does to you... yes, in the beginning it makes you fall in love with it and it makes you feel all warm and cosy and accepted.
"Your whole body is screaming in pain and you're going to do anything to stop that - and that is the desperation that I was faced with."