Bristol Conservative Peter Abraham criticises 20mph zones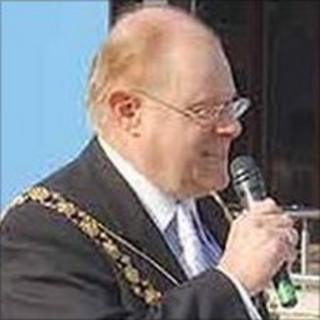 The introduction of 20mph zones in Bristol would cause frustration for motorists, the leader of the council's Conservative group has claimed.
Peter Abraham said he felt the £2.3m scheme would be a failure.
Plans to introduce the limit in most residential streets were approved by the Liberal Democrat-run council last month.
The authority said the speed limit would make the roads safer and encourage walking and cycling.
Police have said enforcing the scheme, which will come into force over the next three years, would be extremely challenging.
"Are we going to harass the motorists every mile they drive?" Mr Abraham said.
"I really feel that we've got to be sensible about this. I believe in driving at the right speed for the right conditions.
"Can we afford it, will it be an advantage? I think it will be a failure."
Lib Dem councillor Tim Kent said: "Our evidence shows that the total benefits from this will be in the region of £60m-£70m towards the city.
"When you introduce 20mph zones, people feel safer to go out and ride their bikes, walk more, and that has an increased health benefit over your life.
"And the savings that gives to us as a society completely outweighs the initial cost of setting it up."