Clifton Suspension Bridge shut for balloon nightglows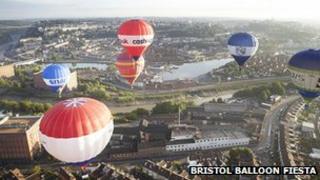 The Clifton Suspension Bridge will be closed to all vehicles, cyclists and pedestrians during part of this year's Bristol International Balloon Fiesta.
It will shut on the evenings of the two nightglows, Thursday and Saturday, from 18:00 until 02:00 BST the next morning.
The annual event, from 9 to 12 August, is celebrating its 34th year.
A fiesta spokesperson said 500,000 visitors were expected at Ashton Court for the free festival between Thursday and Sunday evening.
Highlights this year include the National Beacon - the centrepiece of the Queen's Diamond Jubilee Concert - featuring at both nightglows.
On Friday night, a pair of Silence Twister single-seat airplanes will perform an aerobatics display while trailing sparkling fireworks and smoke from their wings.
This year the festival picked up a bronze award in the Best Tourism Event of the year category in the 2012 VisitEngland Excellence Awards.