Policing EDL demo in Bristol cost force £495,000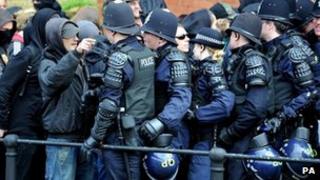 Policing the recent English Defence League (EDL) march in Bristol cost at least £495,000, according to figures obtained from the force.
More than 1,300 officers and civilian staff from 23 other forces policed the demonstration on 14 July, in which 16 arrests were made.
Some 300 EDL supporters marched while a counter demonstration by We are Bristol took place at Castle Park.
Avon and Somerset Police declined to comment.
The information, released under the Freedom of Information Act, revealed costs for "overtime payments, hire of any equipment, pre-event intelligence gathering, and any other associated activity".
"This figure is evolving as final costs are received, but currently stands at £495,000," the force said.