Bristol businesses 'saving the planet to save cash'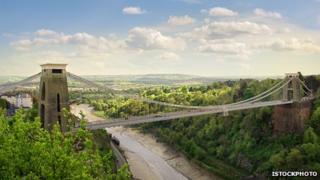 In Bristol many small and medium-sized businesses are focusing their energies on reducing their carbon footprint.
The aim is not to save the planet so much as to cut their costs, from printing on both sides of a sheet of A4, to investing in greener technology.
Greg Corrigan, managing director of printing firm Burleigh Portishead, said: "Unless a business can see some cost benefit, it's difficult to justify doing it for the pure ethos.
"If there were more overt benefits more businesses would be doing it. You sometimes have to make a small investment to reap the savings."
Gaining customers
His company is a member of Low Carbon South West, which supports the development of environmental technologies and services.
Its chairman Alan Bailey said: "Six or seven years ago sustainability was a by-word for added cost. Sustainability today is generally regarded as value added."
He said that while the large corporates were driven by new rules on carbon reporting for FTSE-listed companies, it was a different picture for smaller firms.
"Most companies are looking at ways of trying to save energy, whether that's through the buildings they operate in or the transport they use.
"Certainly if there was no financial benefit to it, personally I don't think organisations would do it.
"Companies are making sure they squeeze every last penny out of their bottom line."
Some businesses, he said, were not just saving money but gaining customers.
'Turn fans off'
"We've got first-hand experience of businesses getting better share prices, bigger customer bases, better PR, all from having a positive role," Mr Bailey said.
Mr Corrigan said Burleigh Portishead was investing in a new computer-to-plate printer which uses a water solution to develop the plate instead of chemicals.
"Using a chemical solution was generating waste chemistry and you can't chuck it down the drain, we were having it collected and disposed of and paying for the disposal," he said.
Mr Corrigan added that it would save hundreds of pounds a year as well as creating only an eighth of the current amount of inert waste.
Bristol-based CODA Architects has won a Carbon Challenge Award two years running.
Officer manager Rebekah Quick said saving energy was a great way of cutting costs even though that was not the firm's main aim.
"We dropped 30% off our energy bill just by switching things off. It's now the norm to turn the fans off and open the window," she said.
The West of England Carbon Challenge, which helps businesses commit to 10% cuts in their carbon emissions, was set up by Forum for the Future.
'Strong business case'
The challenge forms part of its 10-year Sustainable Bristol programme, which aims to make the city one of the UK's greenest.
Ben Ross, from Forum for the Future, said 130 firms were now involved in the challenge.
"While it has been quite difficult to argue a business case internally sometimes, progressive organisations in the service sector are showing a greater interest in saving 1% or 2% of their overall operating costs," he said.
Joanna Watchman, from Bristol-based PR firm Content Communications, said innovative low carbon companies were now offering finance solutions alongside their products.
"The market wants to see quicker paybacks, within two years," Ms Watchman said.
"If you're running a factory and money is tight and you thought 'I can save 40% on my energy bill by sorting the lighting out', you could quite easily find a company who will be experts in LED lighting solutions who have got a partnership with a company who will provide the finance.
"Smart companies are saying 'not only will we provide the product, we'll provide access to finance'."
She added: "My view is it's not really about the green thing. At board room level, shareholder level, companies like to be seen to be green.
"However, when it comes down to it, people need to run a business more efficiently and the biggest costs are usually premises, staff and energy."