Few drivers using £1.3m Stoke Gifford car park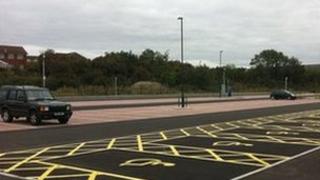 An average of just 10 motorists a day are using a £1.3m car park built near Bristol, a council has admitted.
The facility, intended as a park-and-ride, opened in June 2011 but will not get a bus service until 2015.
South Gloucestershire Council said it was used by only 139 motorists in its first three months and raised £13,899.74 in revenue last year.
The council said it wanted to make local firms more aware of the Stoke Gifford car park, which has 200 spaces.
The new rapid transit bus route, scheduled to come into operation in 2015, is planned to pass the park-and-ride facility.
Council 'look stupid'
The nearest public transport is Bristol Parkway railway station, which is about five minutes walk away.
The council said that from September staff at the station would direct all overflow traffic to the car park while work was done to expand its own parking facilities.
"It's anticipated up to 400 cars will need to be redirected during the works," he said.
"We are hoping this will not only fill the car park but make more users of Parkway station aware of this parking option."
Liberal Democrat councillor Pat Hockey said the car park had made the council "look stupid".
Labour transport spokesman Roger Hutchinson admitted that "on the face of it at this time" the car park had been underused.
"The bus rapid transit is about three years off and that will make a difference," he added.
"We've used the land which became available and we've looked forward to what we expect the need to be in the future."