Bristol hospital flats plan: Council wants more money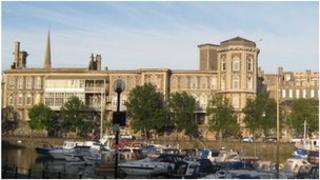 Developers planning to turn the former Bristol General Hospital building into flats have been told they must provide more council money.
City & Country Group wants to convert the grade II listed site in Guinea Lane into 190 flats and 10 commercial units.
Bristol City Council says the £120,000 the company is offering in community contributions - called a section 106 agreement - is not enough.
City & Country says it cannot afford any more due to the scheme's size.
Managing director Helen Moore said the company wanted to build more flats which would have enabled it to provide about £300,000, but this was refused by the council as it was concerned it would affect the look of the area and views of St Mary Redcliffe.
'Unfortunate situation'
She said: "Throughout the process everybody has known that if the scheme became smaller in terms of the amount of the development then there would be less contributions available at the end of the day."
Mrs Moore described the situation as "unfortunate" but said she was confident an agreement could be reached with city planners.
A planning committee meeting will take place on 29 August to make the final decision on the scheme.
A Bristol City Council spokesman said the authority would not comment on the matter before the meeting.