Weston vandalised sand sculptures repaired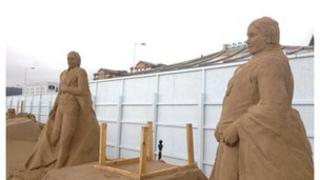 Sculptors have flown in from the Netherlands and Israel to help repair sand sculptures which were vandalised in Weston-super-Mare last week.
Several of the statues, including one of the Queen, were beheaded at the town's sand sculpture festival.
Organiser Alec Messchaert said visitors had not been put off and more than 2,000 people attended on Sunday.
"Usually people take a quick look and go but now they're stopping to watch the sculptors at work," he said.
'Disgusting vandalism'
"Yesterday's big visitor numbers were partly due to the good weather but people are certainly spending more time looking at the figures.
"They are talking to the sculptors and commenting on how much work goes into them. They are talking to each other about how they are disgusted by the vandalism."
Mr Messchaert said they had repaired about six of the 15 sculptures which were damaged so far.
The two athletes, which are part of the Olympics display, have now been restored.
Mr Messchaert explained that it was more difficult to repair the Queen because of the intricate work involved in sculpting her hair and throne.
The sculpture of David Beckham has also been repaired but he is now "just an ordinary footballer".
He said it had not been easy to find sculptors, with the expertise required, as many were taking part in the European Sculpting Championships in the Netherlands.
Co-organiser Nicola Wood, who sculpted the Queen, was due to take part in the European championships and initially thought she would have to withdraw from the competition, but it was agreed she could delay her start. She is now in Zandfoord representing the UK.
The Weston Sand Sculpture Festival is scheduled to close on 9 September, but organisers hope to extend the exhibition until the end of September.
Police are investigating the damage and said last week that a reward would be offered for information leading to the culprits.