Banksy in goal: The story of the Easton Cowboys and Cowgirls
By Jane Onyanga-Omara
BBC News Bristol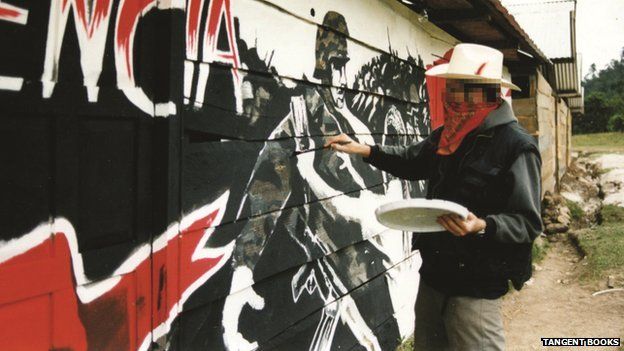 Not many football clubs can claim to have had an internationally renowned graffiti artist serve as goalkeeper.
But the Easton Cowboys and Cowgirls is no ordinary sports club - its activities now go way beyond football.
Starting off as kickabouts involving a group of youngsters in the St Pauls district of Bristol and later at Baptist Mills School in Easton in the late 1980s, Easton Cowboys was formally established when players decided to join a local league in 1992.
The club, which claims to be "Britain's most intrepid sport club", attracted none other than Banksy to sign up.
Will Simpson, who has been with the Cowboys since the beginning, said the street artist turned up to many sessions in the 1990s, before he rose to fame.
"He went on tour with us to Mexico in 2001 and painted a number of murals in the community," he said.
"He did one tour and shortly after, he might have moved to London. We see him every so often when he comes back to Bristol."
Bansky has helped the club with its charity fundraising, creating a painting that was raffled off to raise money for water projects in Chiapas in south-western Mexico.
Sales of a T-shirt featuring the artwork have raised £8,000 over 10 years.
Since its inception, the club has grown significantly, establishing a cricket team in 1994, which went on to play a two-day test against the Compton Homies and Popz in Compton, Los Angeles.
The team also played against the Beverly Hills Cricket Club, made up of English actors, and two teams in San Francisco during its 2000 tour of California.
The Cowgirls women's football team was established in 2002 and the netball team in 2004.
The club, which also has a mixed basketball team, has been taking part in international tournaments since 1993, playing in places including Stuttgart, Mexico, Israel and Morocco, as well as hosting tournaments.
"The Cowboys is unique in that we don't define ourselves as a socialist team or anarchist team, we are a sports team that has a political dimension," Mr Simpson said.
"We're anti-racist, anti-sexist, we're against homophobia. We try to foster an inclusive atmosphere."
He said a group within the club had fundraised to support Palestinian freedom, the netball team had raised money to fight breast cancer and the Cowgirls had fundraised to support women at risk of "corrective rape" in South Africa.
The practice sees men rape lesbians in what they see as an attempt to "correct" their sexual orientation.
Mr Simpson said the club was non-hierarchical, with members often switching roles.
"Most football teams are 15 to 20 blokes but Cowboys and Cowgirls is a massive community," he said.
"We have 200 people on the mailing list and about 150 people playing sports.
"We invite people of all backgrounds and abilities - you don't have to play a sport to be part of Cowboys.
"Even if they cheer them from the touchline, we've lots and lots of non-playing cowboys and cowgirls."
Based in the Plough pub in Easton, the club hopes to one day have its own home ground.
It recently celebrated its 20th anniversary with an international tournament at Berrow in North Somerset.
Freelance journalist Mr Simpson, 43, and fellow cowboy Malcolm McMahon have now written a book chronicling the history of the Easton Cowboys and Cowgirls.
"We took it upon ourselves," Mr Simpson said. "We'd been there from the beginning.
"We felt the club deserved a book and there have been so many interesting stories over the years.
"They needed to be put down on paper, we wanted to tell the world what the club's about."
Related Internet Links
The BBC is not responsible for the content of external sites.