Unlimited daily bus travel cards for Bath, Bristol and North Somerset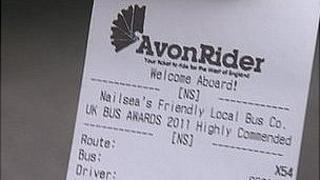 An unlimited daily travel card is now available for bus passengers in Bath, Bristol and North Somerset.
The Avon Rider card enables adult travellers to hop on and off all major buses in the former Avon area without being restricted to one bus company.
Cards cost £7.20 per day and can be purchased from drivers on board buses.
David Fricker, from North Somerset Coaches, said it "shows we can all work together and do things for the benefit of passengers".
The new travelcard has been developed by the area's bus operators, in partnership.
"It's valid on almost every bus service, certainly the large bus operators such as First Group, Wessex Connect, Bath Bus Company and some of the smaller operators," said Mr Fricker.
"And the adult day ticket - this is the first step for us as operators - we're doing that to make sure we get that right before we bring in any other ticket types."