Nowhere Island makes final stop of its tour in Bristol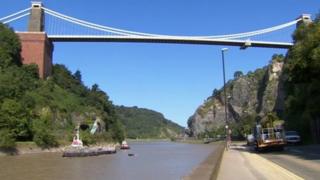 An arctic "island" which is part of an arts project linked to the Olympics has made its final stop in Bristol.
Nowhereisland has cost £500,000 to create and is part of the Cultural Olympiad programme.
The island was made out of soil beneath a melting glacier from northern Norway and was towed to Weymouth from where it began its tour around the South West.
To mark its final stop, a weekend of live music, performances and film screenings will be held in Bristol.
Organisers say afterwards it will be taken to a secret location where it will be broken-up and each of its 22,000 citizens will receive a their share of the 200 tonne island in the post.
'Most ambitious thing'
Although no-one is allowed on the island itself, an "Embassy" which is part of the tour, will be open for people to sign up and become citizens of Nowhereisland.
Artist, Alex Hartley, said: "They've been hundreds of propositions - from 'if you were to build a wall and a fence can you put a table and chairs there?' through to free ice cream on Fridays."
The project has been criticised for its £500,000 price tag by groups such as the Taxpayer's Alliance who have described it as "a floating absurdity".
But Mr Hartley said: "London would not have won the Olympic bid so it was part of their pitch - they would re-invent the Cultural Olympiad, so this money was committed to the arts projects that came with that.
"Our responsibility as artists and producers has been to make the most ambitious thing we could do for that project by bringing it all the way from the Arctic."
A march will be held on Friday through Bristol city which will finish at Cumberland Basin, Bristol Harbourside, where the island will be moored until Sunday, 9 September.