Guitarist Brian May to front rally against badger cull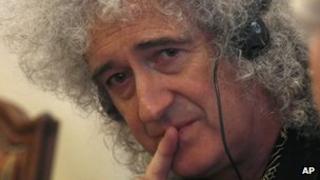 Queen guitarist Brian May is to front a public rally in Bristol against a cull of badgers in the West Country.
The Stop the Cull rally is taking place on Tuesday at College Green.
May has recently spoken out against the cull at public meetings held in Tewkesbury and Taunton.
The government says that culling will help combat cattle tuberculosis, which costs the UK more than £100m per year. May has called for the vaccination of cattle rather than a cull.
Leading animal welfare charities, including the RSPCA, League Against Cruel Sports, Save Me and Humane Society International (UK), are all opposed to the cull.
The Department for Environment, Food and Rural Affairs (Defra) said TB infection forced the slaughter of 25,000 cattle in 2010 alone.
It said it was investing in developing useable vaccines but these were "years away". Any cattle vaccine would need to be tested, trialled and approved for use by the European Union.
On 12 July a legal bid by The Badger Trust to block a cull in England failed in the High Court.
The planned cull is expected to go ahead in west Gloucestershire and west Somerset in the autumn.