Pieminister to stay in Bristol ruling out Wales move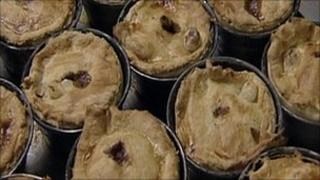 Bristol pie-maker Pieminister has confirmed it no longer intends to relocate its factory to south Wales.
The company said in April last year it was likely to move its production and 35 jobs to a fully-equipped factory in Llantrisant.
The lease at its site in Brentry site was due to run out in 2012 and the owner had put it up for sale.
But co-founder and director Jon Simon said they had now raised enough funds to buy and extend the premises.
Pieminister secured a seven-figure funding package and plans to double production over the next three years.
The company currently produces more than 26,000 pies a week.
'Expanding fast'
Mr Simon said: "We're delighted to be able to stay in Bristol.
"Setting up Pieminister here back in 2003 was not an accident. We knew that the people of Bristol are fiercely loyal to local businesses and that if we got their backing, it would really help drive our business.
"We always wanted Pieminister HQ to stay here but it's been a long and complex process to reach this outcome."
Director Gonzalo Trujillo said: "To invest in the future growth, Pieminister needs a long-term manufacturing base and this deal means we can now keep the facility and maintain our commitment to Bristol as the centre of our operations.
"We are expanding fast, but securing the site in Bristol means we have a site that's big enough for us to grow into for many years to come."
Nick Stork, from HSBC Commercial Bank, which provided the funding, said: "This is a young, ambitious company that has set its sight on significant growth."