Report backs plan for 2,500 homes at Filton Airfield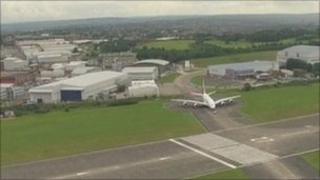 A government inspector has backed plans to build up to 2,500 homes on Filton Airfield near Bristol.
BAE Systems plans to shut the airfield at the end of the year after it was found to be no longer viable.
The inspector was appointed to examine South Gloucestershire core strategy, which includes the Filton plans.
His report said building on Filton would avoid the need to build on nearby green belt land. Councillor Pat Hockey said the report was "very positive".
The inspector was assessing whether the authority's plans were consistent with national planning guidelines.
Despite the closure of the airport, Great Western Ambulance Service (GWAS) will continue to operate its rescue helicopter from the area.
It is believed 19 people will lose their jobs at the airfield when the site closes with 60 contractors affected.