Bristol mayor's salary decision deferred to January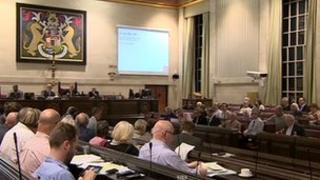 A decision on how much to pay the first elected Mayor of Bristol has been deferred until January.
The subject was fiercely debated in a meeting at the council house on Tuesday evening but councillors failed to come to an agreement.
An independent panel has recommended the post should be paid the same as an MP at £65,738, with £41,086 for his or her deputy.
Voters are due to go to the polls on 15 November.
The political parties are split over what the salary of the new mayor should be.
The ruling Liberal Democrats want the mayor to receive the same salary as the basic pay made to the leader of the council, set at £40,000. The Green Party backs this approach.
The Conservatives argue a vote should not be held on the salary until it is clear what the mayor will be required to do.
Labour wants to go with the independent panel's recommendations.
At Tuesday's meeting all parties backed Conservative councillor Peter Abraham's call for a delay in making the decision.
Standing for election are: Jon Rogers (Liberal Democrat); Neil Maggs (Respect Party); Geoff Gollop (Conservative); Daniella Radice (Green), Marvin Rees (Labour); and independents Craig Clarke, Tim Collins, George Ferguson, Spud Murphy, Eric Mutch and Andy Thorne.