Peace Pole relocated to Easton church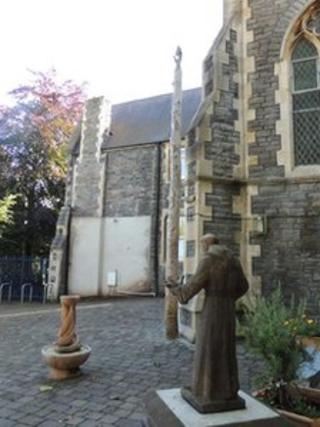 A 16ft (5m) Peace Pole which has stood in St Pauls for six years has been given a new home at a Bristol church.
The hand-carved structure, which used to stand in the courtyard of the Pierian Centre, has been installed at St Nicholas of Tolentino in Easton.
The future of the pole has been in doubt since the centre in closed its doors in December 2011.
"Where do you put a 16ft Peace Pole?", said June Burrough, founder and director of the Portland Square centre.
"I'd found an ideal purchaser for the building but finding a home for this beautiful pole was an awful lot harder," she added.
"I didn't want it hidden away - it's a very public statement - so I couldn't have been happier when Father Richard said it would fit in perfectly with his work at St Nicholas of Tolentino."
The Peace Pole was so named as it was installed in the courtyard of the Pierian Centre on UN World Peace Day in 2006.
It was relocated to Easton on World Peace Day 2012.