Blood supply moved due to flooding in Bristol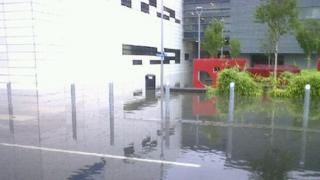 Blood supplies have been moved from the NHS Blood and Transplant centre in Bristol which was closed because of flooding on Monday.
The centre, which is on a business park in Filton, covers the Midlands, South West and part of the South East.
Other sites around the country have taken the stocks of blood and will continue to supply local hospitals.
A statement from the NHS Blood Service said they were looking at the "longer-term implications" of the flooding.
"NHS Blood and Transplant operates from multiple sites throughout England and contingency plans include the ability to switch operations to other sites," the statement added.
"These reprovisioning plans ensure that disruptive challenges to NHSBT operational activities do not affect the delivery of critical products and services to hospitals.
"Being able to quickly activate the plans also meant that the blood products in Filton were able to be safely moved to other centres, with no loss of these vital stocks."