Thousands take part in 2012 Bristol Half Marathon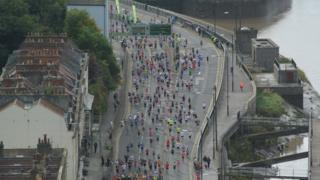 Some 14,000 runners have taken part in Bristol's Half Marathon.
The event, which sees club and fun runners competing against elite athletes, is now in its 24th year.
Dominic Ondoro was the men's winner in an unofficial time of 62min 50sec; the first woman, Emily Biwott, came in at 71min 22sec, the event website said.
Race organisers warned motorists to avoid the area as many roads in the city are closed and on-street parking suspended for much of the day.
'High-fived'
In 2011, the event saw its first fatality, when competitor Nick Read, 33, from Clevedon collapsed outside the Bristol Hippodrome theatre, not far from the finish line.
A team of runners ran in Mr Read's memory to raise money for the cardiac charity Cry, which aims to raise awareness of conditions which can lead to young sudden cardiac death.
Remembering events before Mr Read's death, friend Robin Hambly said their group had done a few 10k races, but were looking for a challenge so they entered the 2011 half.
"Normally we run together for the first 5k and then go our separate ways," he said.
"I'd high-fived [Nick] at the turning point on the Portway," he said.
'Died immediately'
After waiting at the finish line for an hour, Mr Hambly spoke to the race organisers who told him he needed to speak to the police.
"At the police station we were told Nick had dropped to the floor after telling a marshal he felt unwell - it looked like he had died immediately despite attempts to revive him," Mr Hambly said.
"That's why we are running for Cry as they promote screening for young people it's simple andy only takes 20 minutes."
The 13.1-mile (21.1km) route started and finish in Anchor Road and takes runners on a harbourside route, which also passes twice under Brunel's Clifton Suspension Bridge.
The majority of entrants made it around the course by 13:00 BST.