Bristol City Council 'to cut budget by £25m'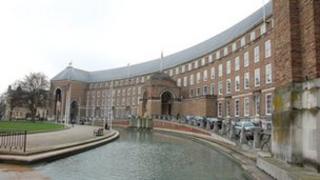 Bristol City Council is facing budget cuts of £15m more than had been expected, the BBC has learned.
The city's new mayor, due to be elected in November, will be asked to sign off cuts of £25m from next year's budget - a 7% cut from the current £366m budget.
Previously a sum of £10m had been agreed. The figures have been seen by BBC Radio Bristol's political reporter Robin Markwell.
The draft budget is due to be released in December.
A number of reasons are believed to be behind the proposed cuts, including less money due to come in from central government and more staff redundancy payments at the Liberal Democrat-led authority.
Other reasons are thought to include the loss of a school academies grant and the cost of borrowing more money.
It is understood one option being given serious consideration to help make the savings is to cut back on people's entitlement to care services.
The figures are based on an assumption that council tax will rise by 2.5%. Council tax has been frozen for the past four years.
The council is due to comment later.