Scientific buoy lost off coast near Weston-super-Mare is recovered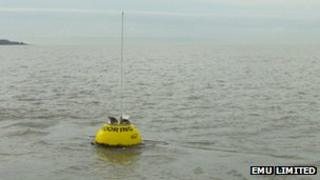 A £40,000 scientific buoy which went missing from its mooring off the coast near Weston-super-Mare has been found.
The buoy is used to collect and record data about waves and the information is used to aid coastal management and prevent coastal flooding.
It went missing on 22 September but was found on Tuesday 20 miles away at Llantwit Major, on the south coast of Wales.
A member of the public spotted the buoy and notified the local authority.
The large yellow buoy is one of a number operated by the South West Coastal Monitoring Programme, led by Teignbridge District Council.
The council is now assessing the damage to the equipment which was battered by tides and rocks.
Data recorded by the buoy is also widely used by fishermen, recreational sailors, divers and surfers.
"We are delighted the buoy has been recovered and our thanks go to the person who found it, spotted our contractor's number on the side and reported it," said Kevin Lake, from Teignbridge District Council.
"These wave data buoys are very valuable and provide lots of vital information to help our understanding of coastal processes and flood defence risk assessments, but also the tidal forces around the Severn Estuary."