Bristol plans for city-wide 20mph limit criticised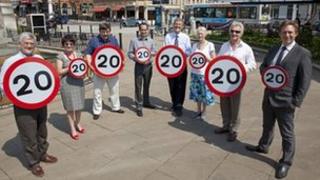 A motoring organisation has criticised plans to impose a 20mph limit on roads in Bristol, claiming it could increase casualty rates.
The Association of British Drivers said it had analysed a trial of the scheme and said there was a drop in casualties in one area but a rise in another.
The association said speed was being used as a "scapegoat" to "push through yet more anti-car dogma".
Bristol City Council said there was "strong support" for the plan.
"Few would agree that reduced speeds make roads less safe for children," the authority added.
"National studies demonstrate that children are at far less risk of injury and death at 20mph than at 30mph."
'Controversial theory'
A spokesman for the council said the pilot areas had experienced an increase in walking and cycling rates and rejected the association's claims over accident rates.
"There were a small number of extra car-to-car collisions in one area, but the reporting period was very short, and the numbers very small," the council said in a statement.
"So this cannot be considered evidence to support the association's rather controversial theory that driving slowly causes more accidents."
But Brian Macdowall of the association said an increase in walking rates, particularly among children, would lead to more people walking on roads alongside cars.
"Encouraging children to play in roads is typical of the council's careless, flippant attitude to road safety," he said.
"Misleading children to believe they can play in roads with impunity is utterly irresponsible.
"We see these measures will likely increase road casualties in the long term, not reduce them. Blood will be on the council's hands, not the drivers."
Guy Kingston, of the Federation of Small Businesses, said his organisation was also opposed to the scheme.
"Surely the £2.3m the council are going to spend on introducing a 20mph scheme would be better spent on supporting the high street; those who do not obey 30mph are not suddenly going to get an urge to drive at 20mph," he said.
"Once again we see the council sacrificing the local economy and prosperity of Bristol in order to push through another of their crazy anti-car ideologies."