Bristol mayor: Council publishes full list of nominees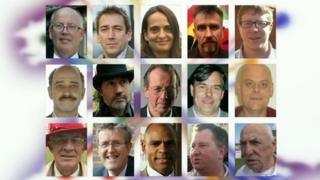 Fourteen men and one woman are in the running to become Bristol's first directly-elected mayor.
The full list of nominees has now been published by Bristol City Council.
The BBC revealed on Friday that 15 candidates, including seven independents, are to run. They have until midday on Wednesday to withdraw.
An election booklet featuring 14 of the candidates will be delivered to every voter at the end of the month. The election takes place on 15 November.
The Conservative candidate is Geoff Gollop, Marvin Rees is standing for Labour and Jon Rogers for the Liberal Democrats.
Other parties are being represented by Tom Baldwin (Trade Unionists and Socialists Against Cuts), Dave Dobbs (The Birthday Party), George Ferguson (Bristol 1st), Neil Maggs (Respect) and Daniella Radice (Green).
There are also seven Independents, including Tony Britt, Tim Collins, Rich Fisher, Stoney Garnett, Owain George, Spud Murphy and Philip Pover.
Mr Garnett has chosen not to pay the required £750 to appear in the election booklet.