Bible and 19th Century letters found in Portishead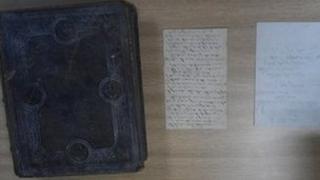 A large bible containing letters from the 19th Century has been discovered in a street in Portishead, North Somerset.
Police are appealing to the owner of the leather-bound bible to come forward so they can be reunited.
There are two documents inside; a letter in old script, and information about the death in the 1860s of a Mr and Mrs Millburn.
It was given to police on 9 October after being found in Roath Road.