Blackberry Hill Hospital 'must improve'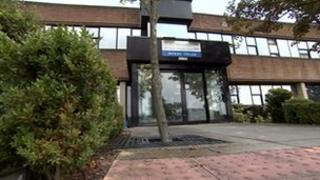 A Bristol hospital has been warned it must make immediate improvements or face enforcement action.
The Care Quality Commission issued two formal warning notices to Avon and Wiltshire Mental Health NHS Partnership Trust after an unannounced inspection of a unit at Blackberry Hill Hospital.
The warnings relate to both the care of patients and suitability of premises.
The trust said it had now temporarily closed the Lansdowne Assessment and Treatment Unit for maintenance work.
Bristol City Council and NHS Bristol have been reviewing the care of the nine patients who were at the 12-bed unit.
The trust said new admissions to the unit, for adults with learning difficulties who are experiencing mental health problems, had been stopped and most patients transferred.
There is currently only one person using the unit and they will be moved shortly, a trust spokesman said.
Cramped layout
The Care Quality Commission (CQC) report said individual care plans at the unit were incomplete and there were few activities for patients.
On the day of the inspection, the activities programme was listed as breakfast and board games in the morning and relaxation in the afternoon.
Inspectors were also concerned there was nowhere that could be used when patients became distressed or agitated because the intensive care suite had been permanently occupied for several months by one person.
The report also said the premises were not fit for purpose.
Layout was cramped, furnishings inadequate and the building was in a poor decorative order, it said.
Ian Biggs, deputy director of CQC in the South, said: "People's families told us they felt safe, and the staff were patient and understanding, but it is disappointing that issues which we highlighted when we inspected a year ago had still not been resolved."
Staff redeployed
A trust spokesman said: "As the needs of service users supported in Lansdowne have become more complex, with many staying longer than originally anticipated, AWP has recognised that the building no longer provides an appropriate environment."
He said the trust had been unable to find suitable alternative premises, so had closed the unit while changes are made.
The spokesman said the safety of service users had been maintained throughout.
"We are working with commissioners to review current learning disability guidance and to determine the most effective ways of meeting the mental health needs of people with learning disabilities," he said.
Staff at the unit are being temporarily redeployed within the trust.