New £2.5m eco-bus fleet goes into service in Bath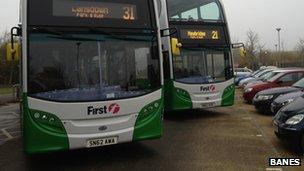 A fleet of eight new buses have come into service to serve Bath's two park-and-ride sites.
The double-decker buses have climate control, free wi-fi and hybrid electric-diesel engines to save fuel.
First's managing director Justin Davies said: "They will deliver more comfortable and more environmentally friendly journeys for our customers."
The launch coincides with all year round Sunday opening of the Odd Down and Landsdown park-and-ride sites.
Previously the sites would open on Sundays in the run-up to Christmas.
The buses work by generating battery power through a regenerative braking system.
When the brakes are used as the buses travel downhill towards the city centre from the park-and-ride sites, energy is created and captured by the engine.
This energy is then used to help power the bus.
Bath and North East Somerset Council has also begun a major upgrade of both park-and-ride sites by 50% to increase the total number of spaces to 2,860.
Work at Odd Down is set to be completed by Christmas and Lansdown by March 2013.
About £30m is being spent by the council, government and First to improve transport around the city.
Related Internet Links
The BBC is not responsible for the content of external sites.