PCC Elections: Commissioner role a crazy idea, says lawyer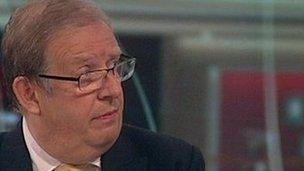 Electing police and crime commissioners in England and Wales is a "crazy" idea, says the head of Bristol Law Society.
Ian Kelsey is concerned that among other things the winning candidate will seek to "interfere" with the judiciary in the sentencing of criminals.
PCCs, as they will be known, will be responsible for setting priorities for their police force, overseeing the budget and hiring the chief constable.
The police elections for Avon and Somerset will be held on 15 November.
Mr Kelsey, a senior partner at Kelsey and Hall Solicitors in Bristol, said: "I think it's a pretty crazy idea to do away with a police authority with 17 different people bringing different skills to the table [and replace it] with one elected official."
He said he thinks it is "dangerous" for politics to involve itself with policing.
"Policing is about obtaining and presenting evidence, and putting it before the court. That's where the policing ends," he said.
"It's for the court to decide upon conviction and sentence, and there shouldn't be any political interference at all."
Standing in the police elections are Labour's John Savage, Independent Sue Mountstevens, Pete Levy for the Liberal Democrats and Ken Mad dock for the Conservatives.
Mr Maddock said he believes there is some influence to be exercised between the police crime commissioner and the judiciary.
And Mr Levy said the way criminals are sentenced should "be of interest to the PC because reducing re-offending rates will be a priority for Avon and Somerset".
The Home Office said that under the police commissioner "the operational independence and impartiality of the judiciary and prosecutors must be preserved".