Bristol Ice Rink closes after 46 years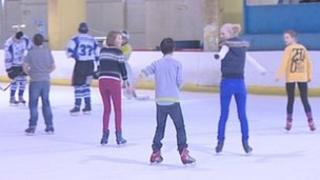 Bristol ice rink, which first opened in 1966, has closed its doors for the final time.
The closure comes in spite of a campaign to save it that drew support from skaters Torvill and Dean and fellow Olympic medallist Robin Cousins.
The Unite group, which owns the site in Trenchard Street, is planning to redevelop the site and turn it into student accommodation.
Rink manager Eddie Pearson said it will be a "massive loss".
Mr Pearson said the rink had seen more than 10 million visitors through the doors in the 46 years it was open.
"It's a strategic rink that's placed in Bristol that attracts people from all over the south west," he said.
"It's not a case of skating being dead and buried in Bristol, but we've come to the end of our lease and there's nothing we can do about it."
Unite have said that subject to receiving planning permission, the student flats could be ready by September 2014.