Former Bristol Labour MP Tony Benn opens union HQ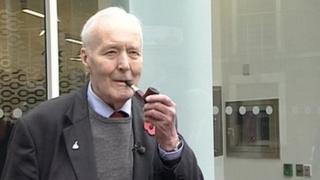 Veteran Labour politician Tony Benn has returned to Bristol to open a union building named in his honour.
The former Bristol MP opened the refurbished Transport House in Victoria Street with Unite general secretary Len McCluskey.
Mr Benn's political career started in the city when he was elected Labour MP for Bristol South East in 1950.
When that constituency was abolished in 1983 he stood for the new Bristol East seat but was defeated by the Tories.
He said he was honoured to have the building named after him as it was something not many people achieved in their lifetime.
"It reminds me of my office here and of all the support I always had from the Transport and General Workers' Union - now Unite - and the many happy years I was a member," he said.
"Leaving Bristol [after his defeat] was an agony for me.
"To come back to the place I worked is a reminder of all the years' work I did and all the inspiration I had," he added.
The building will now be known as Tony Benn House.
Mr Benn was elected MP for Chesterfield in 1984 before unsuccessfully standing for the position of Labour leader in 1988.
He retired from parliament in 2001.