Selva Carmichael targets Big Brother and The X Factor contestants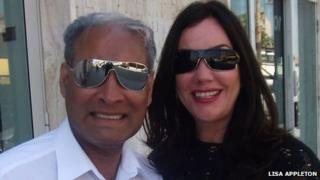 Reality TV celebrities have been targeted by a notorious Bristol conman looking to convince investors he is a successful media producer.
Selva Carmichael, 51, posed as Silva Michael, boss of WorldScreen Group.
He filmed with Big Brother stars Mario Marconi and Lisa Appleton for a show that never aired and posed as the manager of The X Factor singer Chico.
Carmichael, who is now being sued by one investor for more than £42,000, declined to comment on the allegations.
The BBC's Inside Out programme has discovered Carmichael also failed to pay celebrity-backed charity the Five Stars Appeal thousands of pounds worth of promised donations.
Carmichael, who hit the headlines a decade ago when he was jailed for running a major Spanish property scam based in Bristol, socialised with a number of celebrities and wealthy donors at events held by the Manchester-based charity.
He then used his celebrity contacts to convince people to invest tens of thousands of pounds in WorldScreen Group, convincing them it was a successful media company.
Carmichael, who is also known as Selva Narashiman and now has a family home in Buckinghamshire, promised a quick return but the money simply disappeared.
The X Factor contestant Chico, who refused to get involved with Carmichael, said: "What he wanted from me was the contacts and friends that I had, so he could build a roster of celebrity friends that he could actually use to lure rich, unsuspecting victims."
Big Brother contestants Lisa Appleton and Mario Marconi spent months filming a show with Carmichael called "Lisa and Mario: Their Journey", footage from which has only ever appeared on the internet.
Lisa said: "Knowing Selva Carmichael now, he's a compulsive liar, lives in a deluded land and is a serial, serial conman."
'Silver fox'
One WorldScreen Group investor is currently suing Carmichael and the company for breach of contract and the return of more than £42,000.
Carmichael, who likes to be known as the 'Silver Fox', promised The Five Stars Appeal a £23,000 luxury yacht holiday as an auction prize at an event last year as well as making a £10,000 bid, both of which never materialised.
A spokeswoman said: "We entrusted Selva Carmichael as we do with all of our good-willed supporters. We severed ties and took legal action against him, at no cost to the charity, to try to recover as much money as possible."
Carmichael has failed to respond to inquiries made by the BBC but Inside Out has discovered he is now serving a three-and-a-half-year sentence for an unrelated money-laundering offence.
The full story can be seen on Inside Out in the West, East and North West on BBC1 on 5 November at 19:30 GMT.