Bristol mayor: BBC debate held with candidates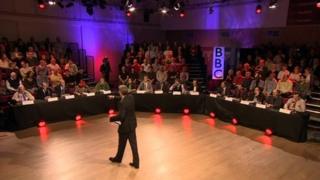 All 15 candidates for Bristol's first directly-elected mayor have met in a debate for the first time.
The candidates took part in a hustings in front of an audience at Bristol Cathedral School, which was broadcast on BBC radio and television.
During the debate the candidates discussed the city's bus rapid transit scheme, the future of care homes and what to do with the Memorial Stadium.
Voting for the elected mayor will take place on 15 November.
'Waste bin'
The vast majority of candidates agreed that transport and the Bus Rapid Transit (BRT) scheme were possibly the biggest issues in need of a solution in Bristol.
Costing up to £200m, the controversial BRT plan is to offer "metro-style" buses to link the city centre with the suburbs using fast and frequent travel.
Respect party candidate Neil Maggs said: "If I'm elected mayor, BRT is in the waste bin by 09:30 GMT on day one. It's an appalling system."
That view was shared by Independent candidate Tim Collins who called it "a second-rate solution" and said a modern electric system was needed with transport running on rails.
Independent Rich Fisher said the scheme was becoming "a bit of an embarrassment" to Bristol and any solution encouraging shared road space between cars and buses would never be "rapid".
The Birthday Party's Dave Dobbs expressed his concern at what he perceived to be a very low usage of buses in Bristol, saying "every bus is nearly empty most of the time".
'Uninspired'
One audience member said she was "deeply uninspired" by the debate and had "not heard a convincing argument" from any of the candidates.
Liberal Democrat candidate Jon Rogers recognised that better transport was needed if Bristol was "to be a world-class city" and he said he would want to seek government powers "to set the fares, set the frequency of services and set the routes".
But Daniella Radice, the Green party candidate, disagreed about approaching central government and said it should be about working with other local authorities to bring in more subsidies and help make public transport cheaper.
Car travel is the preferred means of transport for Independent Owain George, who said it was unacceptable to make it difficult to enter the city in a car "to force people onto a public transport system that is flawed".
Labour candidate Marvin Rees said "everything needs to be looked at" and the issue was more about positioning the city to negotiate with central government in order to get a "world-class" transport system.
That system would primarily be centred around trains, according to Independent Philip Pover, who prefers them "because they are off the road". Buses would be secondary in his opinion.
'Common sense'
Aside from individual methods of transport, who should actually own and run the transport system was one of the most debated points between candidates.
Tom Baldwin, the candidate for Trade Unionists and Socialists Against Cuts, said, if elected, he would aim for public ownership so that decisions were "made democratically".
But Bristol 1st's George Ferguson believes transport "needs a unified authority in the future" to integrate transport and planning and encompass all issues surrounding movement across the city.
Conservative Geoff Gollop called for "common sense", with ideas such as removing bus and cycle lanes where they were not working.
Indepedent candidate Tony Britt suggested asking Richard Branson to come in to start up a bus company and Spud Murphy, also an Independent, said he wanted more privately owned small coaches to take people where they wanted to go.
Two other questions were posed during the debate; one about whether care home closures should go on and the third asking whether a supermarket should be built on the Memorial Ground, currently home of Bristol Rovers FC.
The 15th candidate, Stoney Garnett (Independent), said he favoured the building of a supermarket on the Memorial Ground. "They're the ones that generate the money," he said.
The debate, hosted by Steve Le Fevre, can now be heard on the BBC iPlayer and is being televised on BBC Parliament on Monday, 12 November, at 13:00 GMT.