Royal Mail to meet CWU over Bristol staff dispute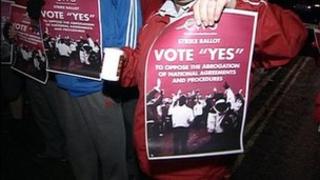 Postal worker representatives are to meet with Royal Mail over a workload dispute at a Bristol sorting office.
Thousands of items of mail were left undelivered and union bosses said it was "chaos" at the Mead Street office where workers were "struggling".
Royal Mail apologised for any delays earlier in the month and blamed a high level of sickness at the office.
The Communication Workers Union (CWU) says it is to meet with Royal Mail on Friday to discuss the issues.
'Acceptable'
A spokesman for CWU Bristol said: "This is a positive step although there is some distance between the two sides at present.
"From our perspective it is not merely a case of concluding any agreement, but an agreement that is acceptable to our members at this unit".
Ballot papers have been sent out to postal workers who have until 21 November to decide whether to take strike action.
About 100 people work in the office.