Bristol postal workers vote in favour of strike action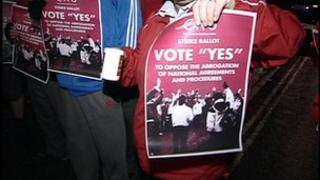 Workers at a Bristol postal sorting office have voted for a strike in a dispute over their workload.
About 80% of workers at the Mead Street depot voted to stage walk outs.
A meeting last week between Royal Mail and the Communication Workers Union (CWU) ended without agreement and more talks will take place on Friday.
David Wilshire, of the CWU, said: "The company needs to appreciate how serious the situation is and stop burying their heads in the sand."
'Extremely disappointed'
Royal Mail spokesman, Adrian Booth, said the company was "extremely disappointed" that staff at Bristol's Mead Street delivery office had voted in favour of industrial action.
"Royal Mail is fully committed to the process of trying to resolve concerns of postal workers based at this office by continuing to follow the national jointly agreed framework with the CWU for finding solutions.
"We continue to call upon the CWU to address their concerns in line with our agreed processes and not to punish customers by resorting to unnecessary strike action."
The union and Royal Mail are scheduled to meet again on Friday to "seek a way forward that avoids industrial action", Mr Booth added.