Attacks on Bristol teachers increase by more than 40%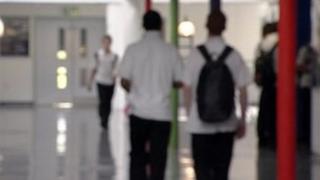 The number of attacks against teachers in Bristol has risen by more than 40% in three years.
A Freedom of Information request by BBC Points West found there were 246 reports of physical or verbal violence between January 2006 and December 2008.
That rose to 351 cases in January 2009 to December 2011. More than 300 of those cases involved physical violence.
Lynn Chamberlain from Bristol City Council said it was "not complacent" and took the figures "very seriously".
"Sometimes things do get worse before they get better," she added.
"Bristol secondary schools and academies are being judged as having good or better behaviour and safety judgements by Ofsted, so the picture is changing all the time.
"Sometimes children make the wrong choices but in all schools they are absolutely clear that this is never acceptable and is treated very, very seriously."
'Very shocking'
The figures equate to three attacks on teachers in the city every week.
Meanwhile the number of attacks has gone down in the authorities neighbouring Bristol.
South Gloucestershire saw 269 cases between 2006 and 2008 but only 84 between 2009 and 2011.
In Bath and North East Somerset, the figure was 91 between 2006 and 2008 and 63 between 2009 and 2011.
Fiona Westwood, regional organiser for the NASUWT teaching union, said any assault or episode of violence was "unacceptable".
"If the figures have gone up by 40%, I think that is very shocking. It's quite a high rise and urgent action needs to be taken to rectify it," she said.
"I do think there's a tremendous reluctance to raise issues of that sort.
"I think there's a danger that you'll be seen as less able to teach properly, or less able to cope with your classes. So, I can understand why some teachers would feel like that."
'Crystal clear'
Dave Baker, executive headteacher of Bradley Stoke Community School and Abbeywood Community School, both in South Gloucestershire, said: "I think part of it may be about how recording and reporting is done.
"It may just look like more incidents are happening because the recording and the gathering of data is better.
"Certainly for the schools that I'm responsible for a great deal of money, resource and time goes into a support infrastructure for students.
"So that when things do go wrong there's a safety net to manage them. Both the schools that I oversee have student support teams".
Mr Baker said he had introduced a number of changes in a bid to install discipline in the classrooms, including banning mobile phones.
"Some people accuse us of being strict and harsh but we would say we're just crystal clear about what expectations are, and what the structures are," he added.
"Some students [at Abbeywood] were fearful when I arrived because I had a reputation of being harsh.
"I would hope that a year on, most of them would acknowledge that there have been improvements.
"And, let's be honest, that's what the school's about. It's about students doing well."