Could an Avon barrier protect Bristol from storm tides?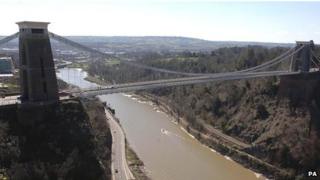 With nearly 30,000 properties in Bristol at risk of flooding, defences similar to the Thames barrier in London have been proposed as a way of protecting the city from storm tides.
Concerned by November's flooding across the country, Bristol's newly-elected mayor George Ferguson said it was a "stark reminder" of the effects of climate change.
He believes in the long term a rising sea level threatens the city centre, and a barrier is necessary for protection.
Although not caused by tidal flooding, many Bristolians in their 50s can remember how low-lying parts of the city flooded after freak thunderstorms on 10 July 1968.
Parts of Ashton, Bedminster, Stapleton, Eastville and St George were among numerous locations badly affected.
It showed the devastation that can be caused in a relatively short period of time once a river bursts its banks.
Fed by estuary
Next month councillors are due to hear the results of the Bristol central area flood risk assessment.
This looks at what could happen when there is a combination of stormy weather at the same time as particularly high tides in the Severn Estuary - which in turn feeds the River Avon.
The city council has been recommended to look into whether a rising tidal barrier across the River Avon would be effective and what the costs are likely to be.
But would a Thames-style barrier work in Bristol?
Retired University of Bristol lecturer Dr John Loveless said although the idea was a "positive thing" it would never pay for itself on the flooding issue alone.
He said developing the River Avon was the "right thing to do" as part of a bigger picture and that Mayor Ferguson was "talking sense".
Hydrology, the science of water, its properties, distribution and quality, is something Mr Loveless has been passionate about all his life.
He believes by putting a number of structures across the Avon the city could also unlock a host of other benefits.
Circle line
He wants to talk to Mayor Ferguson about his idea to build across the river at Netham Lock, Bathurst Basin, Cumberland Basin, Sea Mills and Shirehampton.
"Once you have river crossings this opens up all sorts of possibilities like putting rail crossings on them," he said.
"Then you could start to build the city's equivalent of London's Circle Line which would help ease Bristol's transport problems.
"And there are other benefits. You could generate electricity, you can increase land values in the vicinity by up to five times, improve navigation and even make the area look beautiful.
"Imagine creating something like the Harbourside development on the New Cut, the section of river which runs along Coronation Road," he said.
The idea of a barrage across the River Avon is not new.
In October 1990 a feasibility study into the benefits of a weir across the Avon was published.
The then Bristol Development Agency proposed a 30m (98ft) weir at Bathhurst Basin.
The £5m project would have led to permanent high water over a four-mile stretch to Netham Lock.
But it noted more than 100 sewage or storm water outlets would have to be diverted to other pipes.
Then environment minister David Trippier described the idea as "very innovative" and one which would do "a great deal of good" for Bristol.
It was scheduled to be finished in 1994 but never got off the drawing board.