Concorde 216: BAE Systems donates £2.5m for permanent home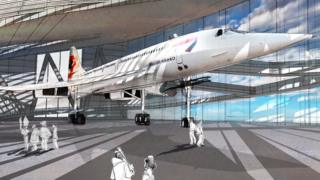 Aerospace firm BAE Systems is donating nearly £2.5m to a project to help build a permanent home for the last of the Concorde fleet to fly.
The company is also giving land on the northern edge of Filton Airfield to the new Bristol Aerospace Centre, which will house the famous plane.
A spokesperson said it would "ensure the long-term conservation and display of Concorde 216".
The Bristol Aero Collection Trust said it was a "significant step forward".
"The Bristol Aerospace Centre will bring together Bristol's important aviation heritage, which is currently in various collections, many inaccessible to the public," said Lloyd Burnell from the trust.
"The centre will provide a fitting tribute to Bristol's world-class aerospace industry.
'Aviation history'
"[It will give] people the opportunity to learn about Bristol's exceptional aviation heritage, and promote learning amongst the next generation of designers, innovators and engineers."
Concorde 216 - or Alpha Foxtrot - was the last of the fleet to fly when Concorde was withdrawn from service by British Airways in 2003 due to increased running costs.
It was put on display by Airbus, which was loaned the plane by BA, in Filton until late 2010 when maintenance was required.
It was the final supersonic airliner built and the last whole aircraft to be produced on the Filton site. It made its last flight from London Heathrow to Filton Airfield in November 2003.
A bid for £2.9m towards building a museum to house it was turned down by the Heritage Lottery Fund in May.
Mr Burnell added the group would still be submitting an application to the Heritage Lottery Fund "early in the new year" in order to secure the project.
The plans involve the refurbishment of two World War I, Grade II listed hangars which will provide a "first-class aviation heritage museum, a learning centre and an archive".
A new building will house Concorde 216 and related exhibitions.
Howard Mason, heritage manager at BAE Systems, said the company was "committed to preserving Bristol's aviation heritage".
"We hope our commitment will encourage other companies and the people of Bristol to put their full weight behind this project," he added.