Bristol shops warned against blocking pavements with A-boards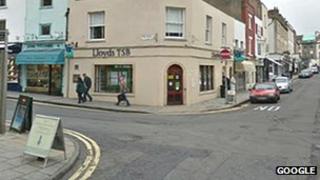 Shop owners in Bristol have been warned by the city council against blocking pavements with A-boards.
The warning has been made in Clifton where firms must leave 1.8m space clear on pavements or face fines and have their boards removed by the council.
Cabinet member Gus Hoyt said: "It's vital they place them considerately so they do not cause a hazard."
Bristol City Council said the decision to clampdown on the boards was taken after residents raised concerns.
The move has been welcomed by the Cabot, Clifton and Clifton East Neighbourhood Partnership.
John Rippon, from the partnership, said: "These boards can be so obstructive on Clifton's narrow paths that I am unable to get my wheelchair down the streets in case the wheels slip over the kerb and I topple over."