Egg sharing cuts Bristol's IVF waiting list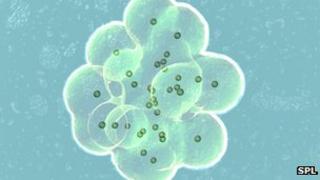 A new "egg sharing" programme and an increase in the amount egg donors are compensated have significantly cut waiting times for couples needing donor eggs in the West.
The Bristol Centre for Reproductive Medicine (BCRM) at Southmead Hospital says it has seen a rise in women registering as donors since a change in the law on compensation.
In October the clinic began pairing up women who produce surplus eggs with those unable to produce them, increasing the chance of both couples becoming pregnant.
Those sharing half their eggs have their own IVF cycle subsidised in return.
The centre hopes the scheme will bring down the agonising wait for many couples embarking on the procedure.
While there is currently no waiting list for couples starting IVF with their own eggs in Bristol, those unable to produce them had been facing a three year wait for a suitable donor.
'Risk factors'
BCRM egg donation co-ordinator Judy Gosmore said that wait has already dropped to two years. The clinic hopes that as egg sharing takes off it can cut it further to just six months.
She said: "Currently the centre has a list of 50-60 couples who are waiting up to two years for treatment.
"That has come down due to the rise in donors and the introduction of egg sharing.
"Currently the clinic carries out about 1,200 IVF cycles per year with couples using their own eggs, with just 15 cycles using donated eggs.
"We hope this will continue to rise now the centre can offer more compensation to donors."
In April the Human Fertilisation and Embryology Authority increased the maximum compensation for egg donors from £250 to £750.
But critics of the change believe it risks encouraging women to donate merely for financial gain.
Josephine Quintavalle, director of Comment on Reproductive Ethics, said: "The process of collecting eggs is invasive and painful and more needs to be known about the risk factors.
"Women should not be induced with ever larger sums of money to incur such risks when it is not good medical practice to over-stimulate their ovaries.
"Women who are eligible for free treatment should be given it without any form of coercion.
"The financial benefit offered by egg sharing is in the region of £3,500 as they are being given free or subsidised IVF."
Money 'not important'
But Dr Allan Pacey, a fertility specialist at the University of Sheffield and chair of the British Fertility Society, said the new rules enable donors to be properly compensated for their time, inconvenience and discomfort.
He said: "Being an egg donor is quite a significant commitment and I don't think what we're seeing is women becoming egg donors because they want to make money.
"Often donors are mums themselves who have to arrange alternative childcare, or are younger women who have to take time off work and travel to several appointments."
Pip Morris of the National Gamete Donation Trust, which helps couples seeking egg or sperm donors, said: "The donors I speak to aren't coming forward because of the compensation - it's not important to them.
"The media coverage surrounding the changes has increased awareness of the need for egg donors which can only be a good thing."
A donor must effectively undergo a cycle of IVF herself, involving daily injections to stimulate her ovaries into releasing eggs which are then harvested under anaesthetic.
The main health risk is that she develops ovarian hyperstimulation syndrome, which can in extreme cases be fatal.
Currently the clinic's success rate using fresh donated eggs is 50%, meaning around half the procedures using donated eggs result in pregnancy.
The IVF success rate at BCRM is anywhere between 30-50% but is dependent on various factors relating to the fertility of individual couples.