Anni Dewani murder: ANC Women's League demands extradition of husband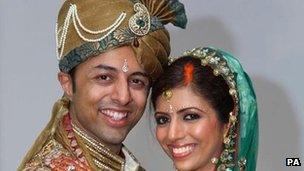 A march has taken place in South Africa to demand the extradition of Shrien Dewani, accused of killing his wife on their honeymoon in Cape Town.
The African National Congress (ANC) Women's League said about 500 women marched to the British High Commission in Pretoria.
They handed a letter to the High Commissioner's political advisor stating their reasons.
The case against Briton Mr Dewani has been adjourned until July 2013.
The body of his wife, Anni, was found with a single gunshot wound to the neck after she and her husband had been kidnapped while travelling in a taxi through the township of Gugulethu near Cape Town in November 2010.
Mr Dewani, from Bristol, who was released unharmed, denies plotting to kill her.
He is being treated for depression and post-traumatic stress disorder (PTSD).
The High Court ruled in March that it would be "unjust and oppressive" to extradite him to South Africa, as his mental condition had deteriorated since his arrest.
His lawyers want proceedings to be halted for a year to give him time to recover.
In their letter, the ANC Women's League, which is the women's wing of South Africa's governing party, says it is concerned at the ongoing extradition process.
"We believe this process has been drawn out unnecessarily," it states.
"We implore the courts of the United Kingdom to consider the fact that justice needs to be served here in South Africa."
The letter continues: "A strong message needs to be sent to the international community that crime in South Africa, more especially crimes against women, will not be tolerated and that South Africa is not a slaughterhouse where people alleged to have committed crimes can leave the country without standing trail."
It goes on to demand an independent assessment of Mr Dewani's mental health.
Last week, South African Xolile Mngeni was sentenced to life in prison for the murder of Mrs Dewani.
Earlier this year, the Cape Town High Court sentenced taxi driver Zola Tongo to 18 years in prison following a plea bargain.
He alleged he was approached by Mr Dewani, who offered him about $2,100 (£1,340) to organise the killing and make it look like a carjacking.
Mziwamadoda Qwabe was sentenced to 25 years in prison after pleading guilty to shooting Mrs Dewani.
Tongo has said he recruited both Mngeni and Qwabe to carry out the killing.
Related Internet Links
The BBC is not responsible for the content of external sites.