Bristol, Bath and Weston transport plans vital: Study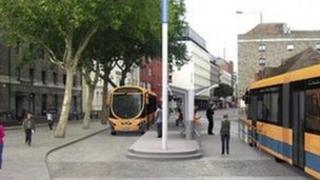 Planned transport schemes for Bristol, Bath and Weston would unlock 19,000 jobs, an independent report has said.
The study was written by consultancy firm Atkins for the four councils in Bristol and Somerset behind the plans.
Project manager Jonathan Foster-Clark said: "Investment in these schemes will play a critical role in unlocking new growth and creating jobs in the West."
Bristol mayor George Ferguson has said the report's job growth figures "should be taken with a slight pinch of salt".
'Tangible benefits'
The report looked at a number of schemes in western England: Three rapid transit schemes in the Bristol area, Bath Transportation Package, Weston Package, the Greater Bristol Metro and the new M49 junction.
The report also said the transport proposals would help to regenerate parts of the region, such as the Temple Quarter Enterprise Zone.
Chair of the Joint Transport Executive, Brian Allinson, said: "We've always had confidence in our transport schemes but this demonstrates that they will give real tangible benefits for business and economic growth."
However one of the schemes, the £50m Bus Rapid Transit (BRT) route, is going through a planning inquiry.
If built, the route would link Ashton Vale with Temple Meads and the city centre.
Some transport groups believe the BRT will not cut congestion and other alternatives such as more rail services or a tram system would be more viable than dedicated bus routes.
Ian Crawford, from Transport for Greater Bristol, said: "Our view is that road building doesn't necessarily lead to economic growth and with the BRT, it is cheaper to travel by car, so buses will continue to be unaffordable for commuters.
"The average speed of a bus in a city is 8mph and for car it is 16mph, so why will people pay more to travel slowly?"
The full report can be found on the West of England website .