Bristol artist Richard Long among Queen's New Year Honours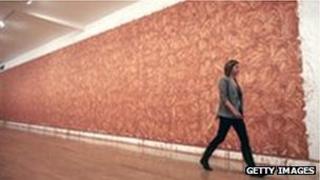 The Turner Prize-winning Bristol artist Richard Long has been appointed CBE in the Queen's New Year Honours list.
The landscape artist and sculptor, who won the prize in 1989, has been honoured for his services to art.
Long's recent works include the Road River, on Box Hill, in Surrey, on the route of the 2012 Olympic cycle road races.
He also created the River Avon Mud Circle at Bristol's M Shed museum in April 2011.
In other awards, Martyn Stafford-Poole, founder of the Bristol Soup Run Trust, has been appointed MBE for services to the community.
Mr Stafford-Poole has been organising a soup run for the city's homeless for more than 25 years, also providing them with pastoral care and advice in coping with everyday living.
"I've seen so many changes in the homeless over the years," he said.
"When we started we would see about 10 or 12 people each night and now it's about 80 or 90."
Foster carers
He has also raised more than £50,000 for the Haven House orphanage in India.
A Bristol couple who have fostered almost 100 children under the age of six have also been appointed MBE.
John and Jacqueline Franklin, from Redland, have been honoured for services to children and families.
The Franklins have been foster carers for more than 30 years, offering a home for up to four children at a time.
Mrs Franklin said when they started they never expected to still be fostering so many years later.
It has been possible because they have had "a lot of help from each other and from family and because we know we make a difference," she said.
They were recognised by the City of Bristol in 2011 with a long service award to celebrate 30 years of dedicated work in fostering.
Also among those to be made MBE was Simon Pugh-Jones, enterprise manager at Writhlington School in Bath, who has been honoured for services to education and Kathy Ford, head of corporate information services for Avon and Somerset Police.
"I find it amazing that I can receive this award for doing something I have thoroughly enjoyed every single day for the more than 22 years," said Mrs Ford.
"It is a wonderful conclusion to my career with Avon and Somerset Police."