Helen Holland becomes Bristol Labour group's new leader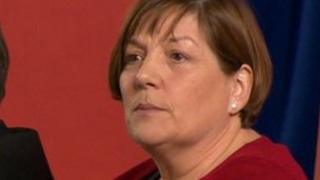 The new leader of the Labour group on Bristol City Council is former council leader Helen Holland.
She replaces councillor Peter Hammond who resigned after being overruled by his party on the issue of joining Mayor Ferguson's cross-party cabinet.
The National Executive Committee (NEC) said it wanted the party to be free to form a constructive opposition.
Ms Holland was offered the role of deputy mayor by Mayor Ferguson but turned it down.
She said: "Some might say I've been here before, but the independent mayor has changed the context and political landscape of Bristol and so this job represents a very different challenge."
Ms Holland has represented Whitchurch Park ward for 21 years.