Bristol Rovers' ground Sainsbury's store bid approved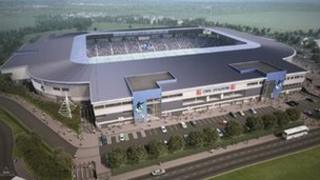 Plans for a Sainsbury's supermarket at Bristol Rovers' Memorial Stadium have been backed by the council.
Bristol City councillors voted 6-3 for the development in Horfield to be approved at a meeting earlier.
Campaigners against the plans claimed the "car-centric development" would have a detrimental impact on local businesses on nearby Gloucester Road, air quality and traffic congestion.
The application will now be passed to the government for a final decision.
Bristol Rovers Football Club said it needed to sell its current ground to the supermarket giant to fund a move to a new stadium at Frenchay.
In July 2012 South Gloucestershire Council approved plans for a 21,700-seat stadium in Stoke Gifford subject to certain conditions.
These include provisions for the local transport infrastructure and the prevention of uncontrolled on-street car parking near the stadium.
'Not perfect plan'
At a meeting of the North Area Planning Committee, those opposed to Sainsbury's building its store on the site insisted the application "should be considered on its own merit" and "could not be about football".
But despite some councillors' reservations that it was "not the perfect plan", the committee made a "big picture decision" and voted to approve the application.
Cllr Chris Windows, committee chair, said: "The arguments for and against this development were finely balanced but members were happy to approve because of the overall wider benefits that this proposal brings in terms of a new purpose-built stadium for the area.
"This supermarket development will support important new jobs and additional housing - 40% of which will be affordable."
The redevelopment of the Memorial Ground site will include the demolition of the stadium and existing buildings and the erection of a food store and 65 houses and apartments.
The plans will be referred to the Secretary of State, who then has 21 days to comment.