Bristol snow: Travel and schools disrupted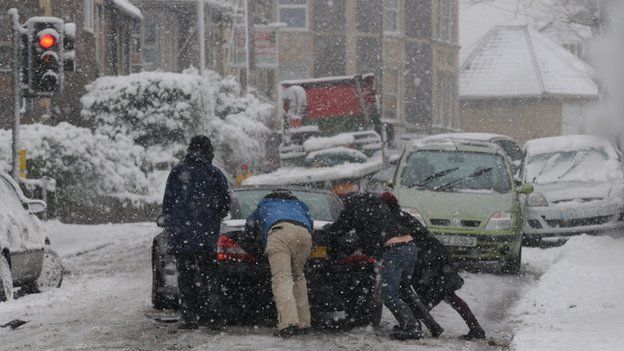 Travel and schools have been disrupted after snow fell overnight in Bristol and South Gloucestershire.
More than 220 schools were closed after nearly six inches of snowfall.
First Bus suspended services in the morning but some buses started running after midday. Police said many routes in Bristol were blocked.
Bristol Airport cancelled all flights before noon but said later that the runway was clear and some flights were departing.
Passengers are advised to contact their airline for the latest flight information, a spokesman said.
Severn River Crossings said the M48 Severn Bridge is closed to all traffic but added the M4 Second Severn Crossing remained open.
The Met Office said 15cm (5.9 ins) of snow had fallen at Filton Airfield near Bristol - the third highest in the country.
The Mall at Cribbs Causeway, which usually stays open until 21:00 on a Friday, said it closed at 16:00 GMT because of the weather.
Avon Fire and Rescue said the "best plan would be to stay off the roads unless you absolutely have to travel".
In Bristol, the A37 Wells Road was closed after a lorry became stuck between West Town Lane and Broadwalk.
Ashley Hill and St Michael's Hill were closed for a time with the council describing the conditions as "very poor". Both roads re-opened by mid-morning.
In North Somerset, the council said road conditions "remained difficult" but main routes were passable with care.
Wessex Buses said its red services had been suspended because of the snow.
First Great Western said some services were being affected by snow with two trains from London to Bristol cancelled. South West Trains has already given advance warning of service disruption.
The company said there would be no service between Salisbury and Bristol Temple Meads all day on Friday due to the weather.
Bristol dial-a-ride also said its services would be suspended.
Managers of the Royal United Hospital in Bath were asking patients and visitors not to travel to the hospital unless absolutely necessary.
Chief operating officer Francesca Thompson said: "Most of the hospital outpatient clinics are running this morning, but we are asking patients and visitors not to put themselves at risk by travelling to the hospital, unless it's absolutely necessary.
"If anyone has been trying to contact the hospital today and they've not been successful in getting through, please don't worry - it's because we are experiencing a high number of calls."
South Gloucestershire Council's head of street care Mark King said his team was trying to get the area's main routes open.
He said: "We've got all our vehicles out on the roads, that's all 12 of them, and they're ploughing and applying salt and trying to get the main roads open.
Gritter driver Hayley Brock said she had been covering roads in Thornbury.
"To start off with it wasn't too bad but now it's getting quite treacherous," she said.
Terry Bullock, Bristol City Council's highways manager, said where roads were flat traffic was "generally getting through".
He said Brislington and Redcatch hills were open but "struggling" and the A38 near to Filton was closed after a lorry became stuck.
"The gritters are out but they're getting stuck in the traffic," he said.
In Hanham, BBC reporter Lee Madan said motorists were abandoning cars amid icy conditions.
Elsewhere, the University of Bath, Bath Spa University and the University of the West of England announced their campuses would be closed. The University of Bristol said it would shut from midday.
Bristol resident Lee Jones said that while he often walks the last part of his journey into work, he was forced to leave his car at the top of the road, as he thought it would be too dangerous to drive down.
"The roads are pretty slippery. I wouldn't advise driving. I stopped before the steep hill because I didn't think it would be very sensible, so I stopped and parked on the flat bit," he said.
While the snow was causing problems for some, Kay Galpin said it was giving her some extra time with her children who went sledging.
"Luckily I'm not working today, so it's OK, but school is shut," she said.
"The kids have been waiting for this all week, so they're very excited."
Snowfall across the South West began at about 04:00 GMT and fell for much of the day.
Related Internet Links
The BBC is not responsible for the content of external sites.