Bristol mayor George Ferguson approves metro funding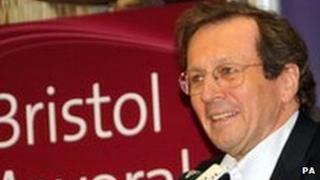 Bristol mayor George Ferguson has approved £1.8m of council funding for a business case towards creating a city metro rail system.
The project would use existing infrastructure and see stations at Horfield and Ashley Down reopened.
The funding still needs full council approval. The cash to build the £94m scheme would come from the government.
Mr Ferguson said: "This is a huge leap forward for the greater Bristol region."
The system would be delivered in two phases. The first, costing £35m, would establish half-hourly train services for the Severn Beach line, local stations between Bristol Temple Meads, Bath Spa and Weston-super-Mare and reopen the Portishead line to passenger services.
This could be completed by 2017/18.
The second phase, costing £34m, would aim to introduce half-hourly train services to Yate and hourly services on a reopened Henbury line, with additional stations at Horfield and Ashley Down.
'Integrated approach'
There is also a £25m proposal to add stations at Saltford, Ashton Gate and Corsham in Wiltshire. Funding bids would be submitted to central government for each phase.
At a meeting of the city council's cabinet on Thursday, Mr Ferguson gave his approval for funding to develop a business case for the project.
The money will be set aside with £559,000 from the council's revenue and £1.24m from its capital budgets up until 2016/17.
If rubber-stamped, the decision will enable more funding to be released by central government in 2015.
Mr Ferguson said: "This is something around which the transport lobby seems to be agreed.
"It's making use of current infrastructure and adding to it in places.
"Over the next 10 or 15 years it enables us to make a more integrated approach to our transport and will hopefully lead to an integrated transport authority in the long term."
On Thursday, the government announced that the greater Bristol area, including Bath and North East Somerset, South Gloucestershire and North Somerset, could receive more than £80m to spend on transport schemes.
It comes as Transport Minister Norman Baker outlined plans to devolve decision-making on major local transport schemes to local transport bodies from 2015.