Whiteladies Picture House: Inspector to rule on cinema's fate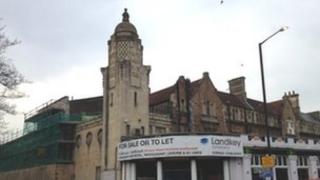 Rejected plans to turn a derelict cinema into flats and a gym are being considered by a planning inspector at the end of a six-day inquiry.
The bid to convert Bristol's Grade II-listed Whiteladies Picture House had been recommended for approval but were rejected by city councillors last June.
Lawyers for developers Medinbrand told the inquiry there was "no evidence of any other viable use for the building".
Opponents of the scheme have said "its best use is what it is designed for".
'Cultural focus'
Gary Grant, speaking for the London-based developers, said: "It cannot be left empty for another 10 years to allow for a charitable community use."
A campaign group that wants to keep the picture house open as an arts centre and cinema "has yet to fund a feasibility study" with "no information on the likelihood of success," Mr Grant said.
"Pure Gym's application is a viable one... based on sound finances and credit," he said.
Scott Stemp, representing Bristol City Council, said the building was one of only two listed cinemas in Bristol and the only one without substantial alteration.
"It has been a cultural focus for decades and its next chapter need not be a subdivision.
"Its optimum use should not be as much the most profitable but the one that causes least harm."
More than 100 people packed the Mansion House for the final day of the appeal on Monday with standing room only.
'Enormous significance'
Planning inspector Richard McCoy also heard from Andrew Langdon QC who spoke on behalf of the Keep Cinemas Local campaign.
He described the Picture House as a "listed building of enormous significance".
"The best use... is what it was designed for. It's crying out for someone to seize the moment," he added.
The building, on Whiteladies Road, was owned by Odeon, which ran it as a three-screen cinema before selling it in November 2001 - almost 80 years after it opened.
A petition calling for it to be reopened as a cinema and arts centre collected more than 1,600 signatures.
The Planning Inspectorate decision is expected by early March.