Ross and Clare Simons tandem death: Vigil held for couple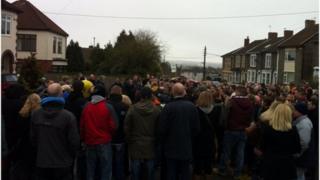 Hundreds of people have attended a vigil to remember a couple knocked off their tandem bicycle near Bristol, marking a week since their deaths.
Ross Simons, 34, and his wife Clare, 30, were cycling in Hanham and died at the scene of the incident.
The vigil was held on Lower Hanham Road at the site of the crash, with the Reverend Peter Cook offering a prayer.
BBC Bristol reporter Lucy Tegg, who attended the memorial, said 250 people gathered to remember the couple.
Candlelit vigil
"A minute's silence began at 3.59pm, exactly one week after Ross and Clare died, which was impeccably observed," she said.
"Following the silence, the Rev Cook said a prayer for the couple, calling for God to comfort their families.
"Edwin Simons, Ross's father, then spoke to the crowd, and said thank-you for the support they had been shown.
"Mr Simons then ended by raising a toast to Ross and Clare, with the crowd simultaneously opening cans of beer together."
He also thanked the media for their support but appealed for the family to be left alone.
Nicholas Lovell, 38, was arrested following the deaths. The car allegedly involved was being followed by police.
Mr Lovell, of West Street, Oldland Common, was remanded in custody by North Avon magistrates on Wednesday, charged with two counts of causing death by dangerous driving.
He was also charged with driving while disqualified, driving with no insurance and failing to stop at the scene of a collision.
Mr and Mrs Simons' funeral will take place on 15 February at Westerleigh Crematorium in South Gloucestershire.
Mr and Mrs Simons had been married for about 18 months. Friends said they had desperately wanted children and had just been given the go-ahead to start IVF treatment.