Mary Portas in Bedminster to see how money was spent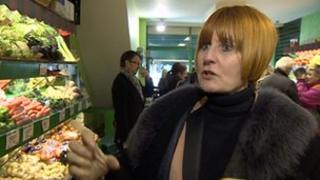 Retail guru Mary Portas has been in Bristol to see how the £100,000 awarded to Bedminster last year is being spent.
An arts trail of metal bugs, street markets and Christmas lights are some of the ideas so far.
Ben Barker from Bedminster Town Team said the money only went so far.
But Ms Portas said the aim of the money from the government-backed Portas Town scheme was to "start the ball rolling". She said: "Already we've seen other investment come in."
Talking about how the initial money was spent, Mr Barker said: "The first thing we did was talk to people - shopkeepers, people in the street - to find out what they thought about the streets."
He said the main issues raised were "untidy, dull, boring, no green things".
"We introduced two markets before Christmas in different parts of the street, an arts trail is being developed between now and March, we had Christmas lights for the first time in living memory... and we're introducing more greenery," he said.
Ms Portas said: "What this has done is enabled and empowered a group of people to create a town team that's made up of the stakeholders of that town.
"Historically towns were not managed by people in that town and here you have today a really inspiring bunch of people who are advising and coming up with very creative and commercial ideas for their High Street."