Clevedon Pier awarded £500,000 by the Coastal Community Fund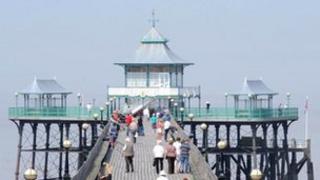 A Somerset pier has received a £500,000 regeneration grant from a government body set up to boost the economic development of UK coastal areas.
The Coastal Community Fund grant will help finance a new visitor centre, cafe and space for workshops and community events at Clevedon Pier.
The Victorian pier was also awarded £720,000 by The Heritage Lottery Fund in December.
Clevedon Pier and Heritage Trust said building work will begin later in 2013.
It is hoped the work will increase visitor numbers and create six full-time jobs, with 10 further placements for volunteers.