Tandem crash pair Ross and Clare Simons' funeral take place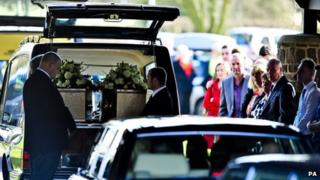 Hundreds of family and friends have paid their respects to a Bristol couple who were killed when their tandem bike was in collision with a car.
Ross Simons, 34, and his wife Clare, 30, died at the scene of the crash in Hanham on 27 January.
Their two coffins were laid side-by-side in a hearse as it entered Westerleigh Crematorium.
A 38-year-old man has been charged with two counts of causing death by dangerous driving.
Bright colours
The pair, described by friends as "a perfect couple", had been married for a year-and-a-half and were about to begin fertility treatment.
Mr and Mrs Simons' family said any donations made at their joint funeral should go to help other childless couples as "this is what Ross and Clare would have wanted".
They also asked those attending the service to wear bright colours and no black because Ross and Clare were both "colourful and bright people".
Reverend Peter Cook, who led the service, said: "Ross and Clare were loved so much and I think it was a very beautiful service with people able to express that love for the couple.
"There were lots of stories told about Ross and Clare, they were a couple who lived life to the full.
"Ross loved wakeboarding and things like that, and stories of Clare collecting worms as a child. It was great, just that sense of their love of life."
Mr and Mrs Simons had been married for about 18 months and had been together since they met in 2001.
The couple, who lived in Hillfields, Fishponds, had bought their tandem bike - which they were riding at the time of the collision - before Christmas.
Nicholas Lovell from Oldland Common is also charged with driving while disqualified, driving with no insurance and failing to stop at the scene of a collision.
He was remanded in custody and is due to appear before the city's crown court on 21 February.